Overview
With the aim to provide higher teachings and practice of the traditional forms of yoga and its discipline in the spiritual town of Rishikesh, India, Rishikesh YTTC offers 300 Hour YTTC program. This program has been designed with utmost care and sophistication for the 200 Hour YTTC graduates with the aim to take them to a higher level of their yogic journey from where they can evolve as complete Yoga Teacher and practitioners of the art form. The program has been designed according to the prestigious standards set by Yoga Alliance so the 300 Hour YTTC graduates from Rishikesh YTTC can take the aspired leap in their lives as established preachers of the art on a global scale. The entire program is crafted by teachers with 300 Hour and 500 Hours as their core area of expertise.
Detailed teachings and practice of traditional Hatha and Ashatnga Yoga styles. In addition with the teaching of 200 Hour YTTC, you shall be taken through advanced series of these two classical styles for complete evolution as a practitioner and teacher.
Practical implications and in-depth study of Yoga Philosophy with respect to the Yoga Sutras of Patanjali, Yoga Upanishad and Bhagavad Gita. Application of various Yamas and Niyamas on a more consecrated, detailed and disciplinary node shall be undertaken during this program to adapt your mind, body and soul for living the yogic lifestyle throughout life.
Advanced and practical study of Human body science, and its applications and relevance in yoga with the purpose of performing even the most complex yoga poses with ease and extracting the maximum benefit from the program.
Higher level of teaching of various adjustment and alignment techniques for postural correction and delving into advanced asanas while avoiding injury related issues.
Breath based training exercising deeper Pranayama techniques for the holistic benefit of the mind, body and soul.
Practice and training of self-healing through various enhanced techniques in yoga, meditation and Pranayama.
Advanced use of yoga props for getting into more intense yoga poses and for deep restoration purposes.
Establishing a detailed communication of the body with the mind and soul through unique mediation practices such as advanced yoga nidra.
Learning and practice of the six yogic works, the intense yogic purification techniques for complete cleansing the mind, body and spirit with the aim to prepare an entity for advanced level of yoga and meditation practices.
Workshops, seminars, practicum and self-practice sessions for theoretical and practical implications of the entire curriculum studied in 200 Hour YTTC and 300 Hour YTTC.
Utilize the opportunity to gain hands-on experience in conducting advanced yoga class with perfection and professionalism during Teaching Methodology II. By this level, you shall feel a complete surge of transformation within you from a student to a great yoga teacher.
Engage in spiritual discourse and lead yourself towards liberation of the mind, body and spirit during Satsang sessions with us.
Learn to prepare yogic meal choices for instilling healthy yogic diet even after the conclusion of the program.
Engage in yoga fun activities such as yoga dance and laughter yoga to mentally and physically revitalize.
Our 300 Hour Yoga Courses In Rishikesh also include excursions and visits to local sites of interest for relaxation and rejuvenation.
---
About Our 300 Hour YTTC In India
---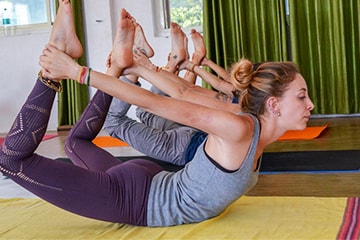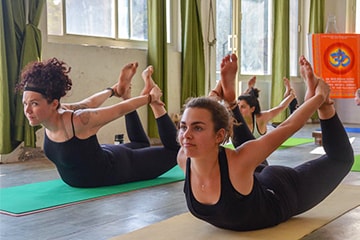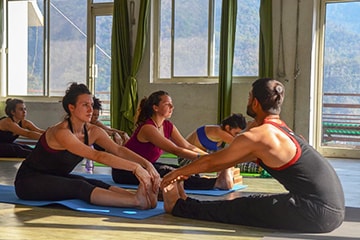 Our 300 hour yoga teacher training in rishikesh, India course is ideal for all those who have completed 200 YTTC and now seeking to delve deep into levels of Yoga, Yogic wisdom and practice. The basic purpose of this course, looking for the enrollment to become a registered practitioner is to have already attended the 200 hours certification course and have that much knowledge of Yoga. The yoga teacher training is been preached by the recognized yoga teachers of India and it is like an expanded version of beginner's phase with intense practice and deeper understanding and knowledge of Yogic wisdom and acumen.
Irrespective of the reason in case you are looking for personal growth or expand your horizon in terms of professional growth including giving a boost to your teaching wisdom and skills, and share your experience with others, it is certainly the best course to get enrollment into. It is definitely going to be worth in terms of learning and practicing and also for an amazing transformation that will take an individual certainly to a next level of spiritual growth and development. Looking for 300 hours course overview and details in a brief way? Read on to the following pointers to know more.
---
OUR 300 HOUR TEACHER TRAINING SYLLABUS
---
Yoga postures (asana)
Students will gain extensive knowledge on yoga postures and will increase their strength, flexibility, and discipline.
Recitation of sacred sound (mantra chanting)
The purpose of mantra chanting in yoga is to generate vibrations and connect with the universe. Each mantra is special and rich with spiritual energy.
Om Asato Maa Sadgamaya (mantra from Upanishad)
Tvameva Mata Ca Pita Tvameva (Sloka on gods)
Om Tryambakam Yajamahe (mantra on Lord Shiva)
Om Sahana Vavatu (mantra from Upanishad)
Guru Brahma Guru Vishnu Gurudevo maheshwara (Guru stotram)
Yogena Cittasya (Sloka on Sage Patanjali)
Hare Rama, Hare Krishna (Maha mantra)
Vakratunda Mahakaya Mantra
Om Bhur Bhuva Swaha (Gayatri mantra)
Ashtanga Vinyasa yoga course syllabus
Sun salutation A
Sun salutation B
Primary series & Advance posture.
Padangusthasana - Big toe posture
Padahastasana - Hand under foot posture
Utthita Trikonasana - Triangle pose
Parivrtta Trikonasana - Revolving triangle
Utthita Parvakonasana - Extended side angle pose
Parivritta Parsvakonasana - Revolving side angle pose
Prasarita Padottanasana A to D - Intense wide leg stretch
Parsvottanasana - Intense side stretch posture
Utthita Hasta Padangusthasana - Hand to big toe posture
Ardha Baddha Padmottanasana - Half bound lotus forward bend
Utkatasana - Fierce pose
Virabhadrasana A to B - Warrior
The Vinyasa (Vinyasa to jump back)
Purvottanasana - Intense east stretch
Ardha Baddha Padma Paschimottanasana - Half bound lotus forward bend
Tiriang Mukhaipada Paschimottanasana - Reverse the leg direction of one leg intense east stretch
Janu Sirsasana A to C - Head to knee pose
Marichyasana A to D
Navasana - Boat posture
Bhujapidasana- Shoulder pressure posture
Kurmasana - Tortoise posture
Supta Kurmasana - Sleeping tortoise
Garbha Pindasana - Embryo posture
Kukkutasana - Rooster posture
Baddha Konasana A to B - Bound angle posture
Upavista Konasana A to B - Seated angle posture
Supta Konasana A to B - Lying down angle posture
Supta Padangustasana - Reclining big toe posture
Ubhaya Padangusthasana - Both big toes postures
Urdhva Mukha Paschimottasana - Upward facing full forward bend
Setu Bandhasana - Bridge
Urdhva Dhanurasana - Upward bow posture
Paschimottanasana - Full forward bend
Salamba Sarvangasana - Shoulder-stand
Halasana - Plow
Karnapidasana - Ear pressure posture
Urdhva padmasana - Upward lotus
Pindasana - Embryo posture
Matsyasana - Fish posture
Uttana Padasana - Extended leg posture
Sirsasana - Headstand
Yoga Mudra - Sealed yoga posture
Padmasana - Lotus
Uttpluthi - uprooting
avasana - Corpse posture
Mudra (yoga gestures)
The practice of mudra hand gestures is an ancient facet of yoga. Performing gestures affects the energy flow of the body and can change a person's spiritual and mental characteristics.
Introduction of mudras
Jnana and Chin mudra
Yoni mudra
Bhairava mudra
Hridaya mudra
Khechari mudra
Nasikagra mudra
Shambhavi mudra
Meditation (dhyana)
Meditation is a systematic practice that promotes physical, mental, and emotional tranquility with the purpose of reaching Samadhi (self-realization).
Introduction to meditation
Meditation: Why?
Meditation and brain waves
Meditation and its effect on stress management
Obstacles in meditation
Role of concentration in meditation and tips for developing concentration
Meditation on body and breath
Om / mantra meditation
Antat and Bahir Trataka
Dynamic meditation
Tips for silent mditation practice
Japa meditation
Ajapa japa
Antar mouna
Nada meditation
Yoga Cleansing (Shatkarma)
Yogic cleansing exercises are important to learn how to incorporate your breath and meditate properly during physical aspects of yoga. It also removes the blockages in the energy channels.
Jalaneti satkarma (nasal cleansing with salty water)
Rubber neti (nasal cleansing with a rubber string)
Agnisar kriya
Nauli kriya
Kapalbhati cleansing
Detailed study
Effects of pranayama in respiratory system
Effects of yoga practice and Nauli in digestive system
Muscular and skeletal system with advance postures
Anatomy of pelvic griddle and spine
Nadis - The energy channel
Prana and nervous system
Kundalini Shakti
Chakra
Panchakosha
Therapeutic applications of yoga postures and how to avoid injury in asana class
Sitting postures
Dandasana - Staff pose
Paschimottanasana A to D Intense West - Stretch or sitting forward bend
Pranayama (breathing practices)
Introduction of Paranayama
Meaning & Defination.
Relavance of Pranayama in modern time.
Benefits of Pranayama
5 Prana and Components of Pranayama
Preparation for Pranayama
Methods of Pranayama

1. Balancing pranayama
2. Vitalizing Pranayama
3. Tranquilizing Pranayama

The pranic body
Annamaya kosha
Manomaya kosha
Pranamaya kosha
Vijnanamaya kosha
Anandamaya kosha
Natural breathing
Abdominal breathing
Thoracic breathing
Clavicular breathing
Yogic breathing
Nadi shodhana pranayama and its techniques
Sheetali pranayama and its techniques
Sheetkari pranayama
Bhramari pranayama
Ujjayi pranayama
Bhastika pranayama
Kapalbhati pranayama
Moorchha pranayama
Surya Bheda pranayama
Chandra Bhedana pranayama
Swana pranayama
Hatha yoga course syllabus
Alignment, assist, and adjustment
Surya namaskar (sun salutation)
handra namaskar (moon salutation)
Bharadvajasana
Lolasana - Swinging pose
Kukkutasana - Rooster pose
Sarpasana - Snake pose
Shalabhasana - Locust pose
Dhanurasana - Bow pose
Paschimottanasana - Seated forward bend
Janu sirshasana - Head to knee pose
Parivirta janu sirshasana - Revolving head to knee pose
Sarvangasana - Shoulder stand
Padam sarvangasana - Shoulder stand lotus pose
Sirshasana- Headstand
Natarajasana - Lord Shiva's pose
Utthita Hasta Padangusthasana
aukasana - Boat pose
Vatayanasana - Horse face pose
Mayurasana - Peacock pose
Koormasana - Tortoise pose
Chakrasana - Wheel pose
Hanumanasana - Monkey pose
Agnistambhasana- Fire log pose
Brahmacharyasana - Celibate's pose
Astavakrasana - Eight-twists pose
Ek pada sirasana - One foot to head pose
Chaturanga Dandasana
Pincha Mayurasana - Feathered peacock pose
Eka Pada Koundinyasana - Sage koundinyasana
Handstand - Adho Mukha Vrksasana
Ardha Pincha Mayurasana - Dolphin pose
Makara Adho Mukha Svanasana - Dolphin plank pose
Bakasana - Crow pose
Ek Pada Bakasana - One leg crow
Utthan Pristhasana - Lizard pose
Pashasana - Noose pose
Parivrtta Surya Yantrasana - Sundial or compass pose
Titibasana - Firefly pose
Parshva Bakasana - Side crow
Teaching practice (adhyapanam)
Students will take turns practicing their teaching skills by performing in front of their peers and teachers.
Demonstration
Alignment
Instructions
Teaching methodology
A yoga teacher should efficiently perform the practical applications of class planning and preparation. At World Peace Yoga School, the students will learn how to create a positive and peaceful class environment for an enjoyable and transformative experience.
Positive and conscious communication
Time management
Qualities of a teacher
Principles of demonstrating, observation, assisting, and correcting
Use of voice in class
Mental and emotional preparation for teaching
Class preparation.
Step by step class structure planning
Classroom management and its discipline.
Awareness of Injuries.
Yoga philosophy (yoga darshana)
Yoga philosophy is the foundation of your yoga practice and it is the key to earn yogic strength. Through the path of Vedanta Philosophy, you will establish a solid, well-rounded yoga practice.
Patanjali yoga sutras
Chapter 1 - Samadhi pada
Chapter 2 - Sadhana pada
Anatomy & Yoga Therapy
Concepts of panchakosha(5 layers) and Trisharira(3 Bodies)
Introduction to Musculoskeletal system with insights to asanas
Rispiratory system
mechanisms and Therapeutic implications of Pranayama
Circulatory System
Digestive System
Mechanisms and Therapeutic implications of Shatkarma
Mechanisms and Therapeutic implications of Asanas
Endocrine System
Nervous System
---
Accommodations
During the course, you will be staying at Rishikesh Yoga Teacher Training Center in Rishikesh, India. The school is situated in the heart of the Rishikesh, Next to the famous hanging bridge and holy ganga (Holy river). The Ashram is peaceful and surrounded by beautiful green mountains. Everything is close by the Ashram such as shops, cafes, Restaurant, ATM, healthcare, organic stores.

Rishikesh Yoga Teacher Training Center offer single and double room based on the student's requirements. Every room has attached bathroom with western toilet and hot shower, balcony with mountain or garden view. The rooms for the yogis are well maintained and clean. They offer bed sheets, pillows, bath towels, toilet paper, blanket and welcome amenities upon arrival. Good Wi-Fi is included in every floor. Water and laundry service is also available.

There is also budget accommodation offered by Rishikesh Yoga Teacher Training Center. These rooms do not have balcony or mountain view and separated from the main building, but all the other facilities are just the same.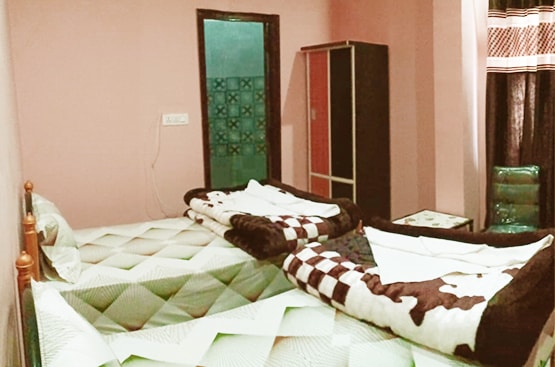 Amenities upon arrival:
Food
Daily freshly made vegetarian meals are included in the price. The food is fully prepared hygienically and the vegetable is organic. Rishikesh Yoga Teacher Training Center food is well known all around the world for its taste and verities.

When diet is wrong medicine is of no use. When diet is correct medicine is of no need. ~Ayurvedic Proverb.

Isn't it enough just to practice the Yoga, do we have to regulate our food?' wonder many. In itself, practicing yoga, is not just a healthy life but at Rishikesh YTTC, they believe that it is also a way of Living, but when complemented with the healthy food habits, it can really create wonders. In fact, eating the right food is an essential part of living a yogic Life.

What we eat, not only influences our physical well being, but also our emotions and thoughts. Yoga, does not dissect food into proteins, carbohydrates or fats, instead it classifies them according to the effect they have on the body and mind, into three types - Satva, Rajas and Tamas. Tamasic food is the kind of food which makes us lethargic or sluggish, while Rajasic food is that which brings about activity or restlessness. Whereas, Sattvic food is the kind which makes you feel light, energetic and enthusiastic.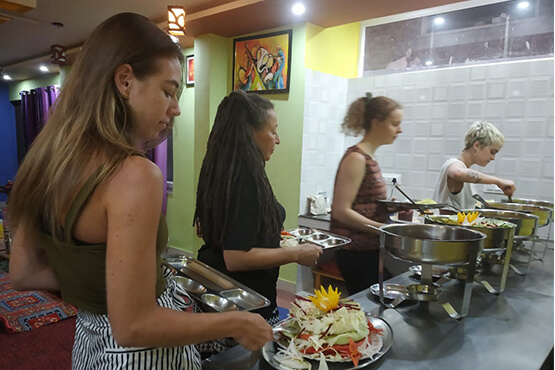 Sattvic foods are those which purify the body and calm the mind. They stimulate the body and mind into action. Cooked food that is consumed within 3-4 hours can be considered sattvic as Rishikesh Yoga Teacher Training Center focus on well being of our students they do sattvic diet for all of them. These menus are created by their Master Chef Sandeep Semwal who had worked with some of the best Five star Hotels around the world and carries great knowledge about sattvic diet along with this he focuses on hygiene practices at our institution to ensure the food is safe and carries great nutritional values which is much needed for healthy life.

Not just the right kind of food, it is vital to eat the proper quantity of food at the right time. Overindulging leads to lethargy while under eating will not provide enough nourishment. Most of the times we know that our stomach is full but tempted by the taste buds we tend to indulge. The right amount of food cannot be quantified into cups or grams, when we listen to our body attentively we will know when exactly to stop!

We might eat the right kind of food in the right quantity but if we are irregular with our timings then the whole system goes for a toss and the natural rhythm of the body is hampered. Therefore it is of prime importance to eat food at the same time everyday and eat it at regular intervals.

It is said that the state of the mind of the person cooking/ eating also affects the food. The energy in the food cooked by someone while he/she was angry will definitely be lower than that of someone who cooked it with a feeling of love, contentment and gratitude. Listening to some soothing music or chanting while cooking and eating can help retain the Prana (life force energy) in the food. It is definitely worthwhile to pay some attention to the food that we eat as the ancient Indian texts say that we are what we eat!
---
The following meals are included:
The following dietary requirement(s) are served and/or catered for:
Vegetarian
Raw food
Fruitarian
Lactose Free
Organic
Yogic
Ayurvedic
Other dietary requirements on request
If you have special dietary requirements it's a good idea to communicate it to the organiser when making a reservation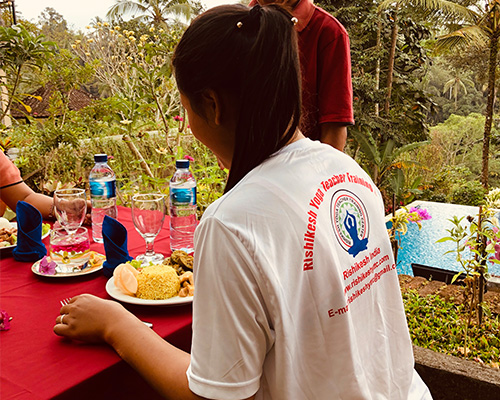 ---
Things To Do
---
Do a nutrition and lifestyle medical screening with the resident medical adviser
Go hiking in the mountains and local valleys
Go horse riding with local trained horses
Go skiing in the winter, they can assist with the transportation to the nearest skiing slope 30 minutes away
Make your own mandala paintings, dreamcatcher, and art
Visit the Dracula's Castle located nearby in Bran
---
300 HOUR YTTC FEE & SCHEDULE 2019
---
| DATES | FEE (Shared/Private) | Occupied/Total | PLACE | BOOK NOW |
| --- | --- | --- | --- | --- |
| 2 May to 28 May | $1600/$1700 | 10/15 | Rishikesh, India | BOOK NOW |
| 2 Jun to 28 Jun | $1600/$1700 | 12/15 | Rishikesh, India | BOOK NOW |
| 2 July to 28 July | $1600/$1700 | 9/15 | Rishikesh, India | BOOK NOW |
| 2 August to 28 August | $1600/$1700 | 8/15 | Rishikesh, India | BOOK NOW |
| 2 September to 28 September | $1600/$1700 | 6/15 | Rishikesh, India | BOOK NOW |
| 2 October to 28 October | $1600/$1700 | 7/15 | Rishikesh, India | BOOK NOW |
| 2 November to 28 November | $1600/$1700 | 4/15 | Rishikesh, India | BOOK NOW |
| 2 December to 28 December | $1600/$1700 | 2/15 | Rishikesh, India | BOOK NOW |
---
Our Yoga teacher training in Rishikesh fees includes these :
28 nights' accommodation with shared & Private room.
1 T-shirt for yoga class
2 yoga books for self-study
2 x teas and refreshments per day
3 vegetarian meals per day
300-hour Yoga Alliance yoga teacher training certificate
Daily meditation, pranayama, and mantra chanting classes
Daily morning Hatha yoga and evening Ashtanga yoga
Discount on SPA treatment at the in-house facility
Equal emphasis on yoga philosophy, ethics, and yoga anatomy
Free Indian cooking classes and dance yoga
Sunday sight-seeing tour
Nasal wash pot
Outdoor yoga practice and meditation
Shatkriyas (cleansing) and laughter therapy
Study material
Weekend social, cultural, and recreational activities
Weekly group discussion aimed to develop your critical skills
Yoga teacher training manuals and materials
How to pay & book a seat
To confirm a seat for a course, please pay a booking amount of USD 200 and balance shall be paid on arrival day. We accept Paypal as of now. If you are unable to pay by Paypal, please use Western Union or direct bank transfer. A 5% processing fees shall be levied in any case. Once paid, please email us your details (rishikeshyttc@gmail.com) and fill the registration form.