Overview
Are you ready to dive and be on the final stage with 500 hour yoga teacher training in rishikesh, India where you can gain all possible acumen and learning about Yoga? Want to enroll for our one of the best and reckoned yoga school in India that is Rishikesh yttc? Are you prepared to create a strong and disciplined base of your future practice and teaching? Want to learn from the best and experienced yoga gurus and teachers in our ashram who will help and support in every step in each possible way and become professional practitioners as well as teachers? If yes, you are for sure at the right platform and our ashram has the right blend of positivity, spirit and environment needed to learn and practice the same.
Candidates and students who seek for enrolment in our offered 500 hours yoga teacher training course, for the information, we provide back to back 200 hours YTTC and 300 hours YTTC course sessions. It could be challenging though on one end but at the end, it would be rewarding and worth every minute a candidate spend in completing the training course. It is mandatory to complete both the course session in order to be a certified and professional yoga teacher, meeting educational needs. What an individual learns in the 200 hours course will take him or her, further in terms of teaching skills and practice and completion of both of them from the same place definitely assures consistency, better understanding and practice, comfort level and depth needed to understand Yoga. There is no mandate to be a professional to enroll for our 500 hour yoga teacher training in rishikesh, India course. Irrespective of whether you just start learning and practicing Yoga or done it many times earlier, the 500 hours alliance course is suitable for everyone. Anyone could go for the same and we can assure that once the course is completed, you will be an expert.
---
About Our 500 Hour YTTC In India
---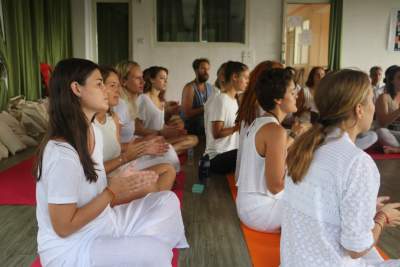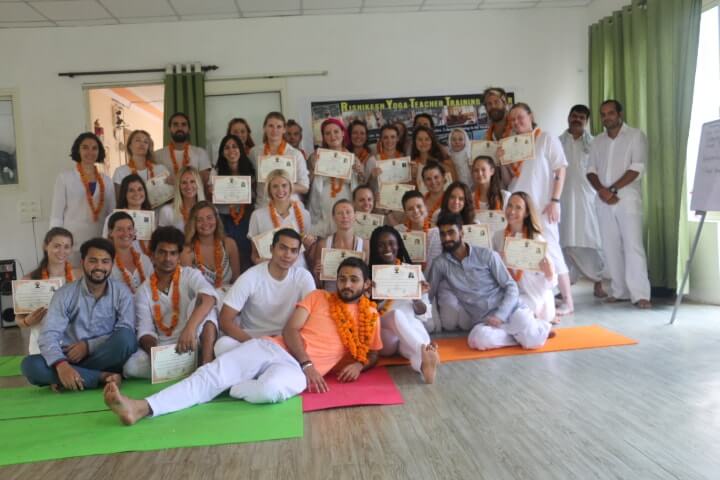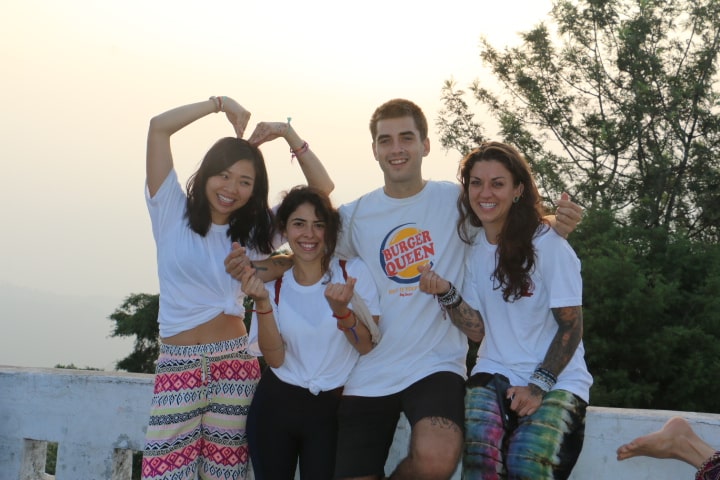 Feel absolutely free and let go all your concerns and worries away, join our love filled, calm and blessed environment in our ashram and feel the inner magic and strength in you all by yourself. Take out some time, learn the dominant styles at both beginners and advanced level in Hatha, Vinyasa and Ashtanga Yoga in our offered 500 hour yoga teacher training in rishikesh, India course, and simply get to understand what self discovery and realization means and how it could impact a person from different aspects. At Rishikesh yttc, we are all about letting students learn and grab as much as they can from the Yogis in terms of their living, ancient knowledge, forms of Yoga, techniques to apply and follow and more.
Our 500 hour yoga teacher training in rishikesh, India is alliance certified course and is highly recommended to all levels of yoga enthusiasts, practitioners and professionals looking for both beginners and advanced level learning and practicing. Initially, students will be taught knowledge of Yoga, laying a foundation for them in regards of basics of yogic science, asanas, right way of practicing them, about meditation, and other techniques that could fill in the purpose of life for them. Afterwards, taking it to a next level, students will be given guidance in learning advanced forms and practices related to meditation or pranayama, yoga asanas/postures, and everything required to make them realize an immortal self and exploration and all ready to share the Yogic wisdom and acumen with others worldwide.
---
Features & Syllabus of 500 Hour YTTC
---
Improvise yourself from all aspects including physically, spiritually and mentally.
The curriculum is devised meeting all national and international Yoga alliance standards in order to become an inspiring certified professional teacher of Yoga.
Help to get better at your personal practice and lend an environment needed for personal or professional growth.
Develop confidence and conscience and gain tremendous Yogic knowledge and wisdom.
Realize the importance of Yoga centric life and inculcate in towards internal evolution and holistic overall well being.
The course fee will cover accommodation, Yoga material, Ayurvedic massage, fresh homemade three times meal and tea, weekend excursions, sightseeing trip, and more. If something is required, feel free to let us know and we assure to take care of everything considering it on topmost priority. In all, embark on the pathway of Yoga and evolve to become a professional expert with our 500 hours yoga teacher training program and get the certification. We would love to help you learn and practice and enjoy your living and worth to die for! Looking forward to hear from you!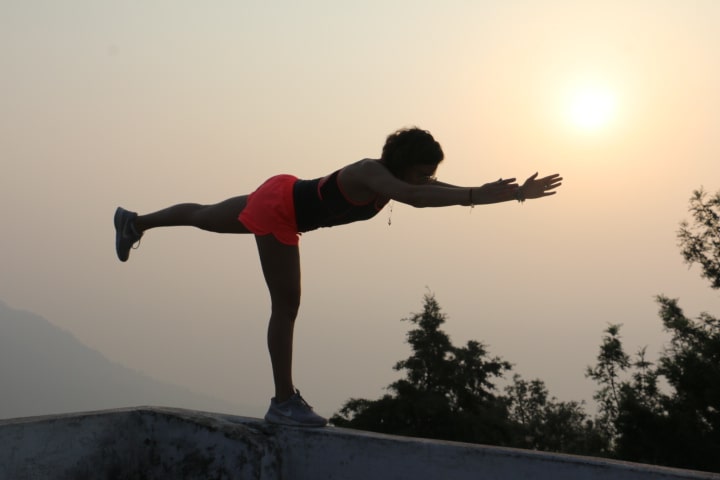 ---
Accommodations
During the course, you will be staying at Rishikesh Yoga Teacher Training Center in Rishikesh, India. The school is situated in the heart of the Rishikesh, Next to the famous hanging bridge and holy ganga (Holy river). The Ashram is peaceful and surrounded by beautiful green mountains. Everything is close by the Ashram such as shops, cafes, Restaurant, ATM, healthcare, organic stores.

Rishikesh Yoga Teacher Training Center offer single and double room based on the student's requirements. Every room has attached bathroom with western toilet and hot shower, balcony with mountain or garden view. The rooms for the yogis are well maintained and clean. They offer bed sheets, pillows, bath towels, toilet paper, blanket and welcome amenities upon arrival. Good Wi-Fi is included in every floor. Water and laundry service is also available.

There is also budget accommodation offered by Rishikesh Yoga Teacher Training Center. These rooms do not have balcony or mountain view and separated from the main building, but all the other facilities are just the same.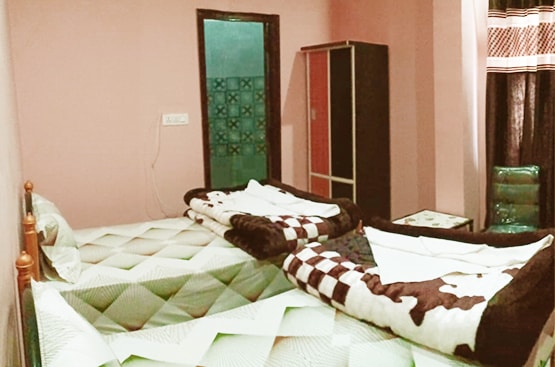 Amenities upon arrival:
Food
Daily freshly made vegetarian meals are included in the price. The food is fully prepared hygienically and the vegetable is organic. Rishikesh Yoga Teacher Training Center food is well known all around the world for its taste and verities.

When diet is wrong medicine is of no use. When diet is correct medicine is of no need. ~Ayurvedic Proverb.

Isn't it enough just to practice the Yoga, do we have to regulate our food?' wonder many. In itself, practicing yoga, is not just a healthy life but at Rishikesh YTTC, they believe that it is also a way of Living, but when complemented with the healthy food habits, it can really create wonders. In fact, eating the right food is an essential part of living a yogic Life.

What we eat, not only influences our physical well being, but also our emotions and thoughts. Yoga, does not dissect food into proteins, carbohydrates or fats, instead it classifies them according to the effect they have on the body and mind, into three types - Satva, Rajas and Tamas. Tamasic food is the kind of food which makes us lethargic or sluggish, while Rajasic food is that which brings about activity or restlessness. Whereas, Sattvic food is the kind which makes you feel light, energetic and enthusiastic.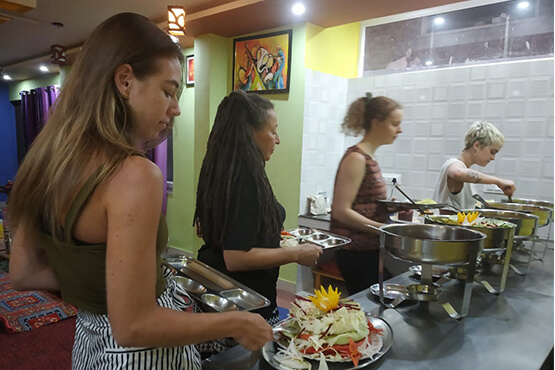 Sattvic foods are those which purify the body and calm the mind. They stimulate the body and mind into action. Cooked food that is consumed within 3-4 hours can be considered sattvic as Rishikesh Yoga Teacher Training Center focus on well being of our students they do sattvic diet for all of them. These menus are created by their Master Chef Sandeep Semwal who had worked with some of the best Five star Hotels around the world and carries great knowledge about sattvic diet along with this he focuses on hygiene practices at our institution to ensure the food is safe and carries great nutritional values which is much needed for healthy life.

Not just the right kind of food, it is vital to eat the proper quantity of food at the right time. Overindulging leads to lethargy while under eating will not provide enough nourishment. Most of the times we know that our stomach is full but tempted by the taste buds we tend to indulge. The right amount of food cannot be quantified into cups or grams, when we listen to our body attentively we will know when exactly to stop!

We might eat the right kind of food in the right quantity but if we are irregular with our timings then the whole system goes for a toss and the natural rhythm of the body is hampered. Therefore it is of prime importance to eat food at the same time everyday and eat it at regular intervals.

It is said that the state of the mind of the person cooking/ eating also affects the food. The energy in the food cooked by someone while he/she was angry will definitely be lower than that of someone who cooked it with a feeling of love, contentment and gratitude. Listening to some soothing music or chanting while cooking and eating can help retain the Prana (life force energy) in the food. It is definitely worthwhile to pay some attention to the food that we eat as the ancient Indian texts say that we are what we eat!
---
The following meals are included:
The following dietary requirement(s) are served and/or catered for:
Vegetarian
Raw food
Fruitarian
Lactose Free
Organic
Yogic
Ayurvedic
Other dietary requirements on request
If you have special dietary requirements it's a good idea to communicate it to the organiser when making a reservation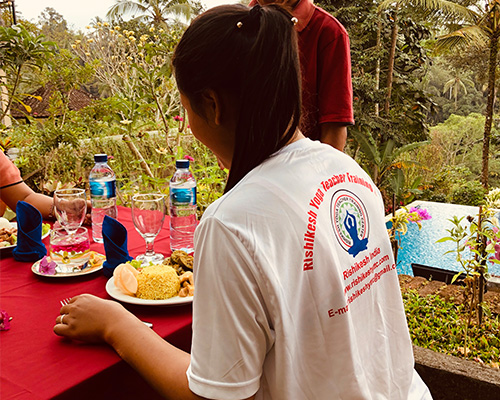 ---
Things To Do
---
Do a nutrition and lifestyle medical screening with the resident medical adviser
Go hiking in the mountains and local valleys
Go horse riding with local trained horses
Go skiing in the winter, they can assist with the transportation to the nearest skiing slope 30 minutes away
Make your own mandala paintings, dreamcatcher, and art
Visit the Dracula's Castle located nearby in Bran
---
500 HOUR YTTC FEE & SCHEDULE 2019
| DATES | FEE (Shared/Private) | Occupied/Total | PLACE | BOOK NOW |
| --- | --- | --- | --- | --- |
| 2 May to 28 May | $1850/$2000 | 7/10 | Rishikesh, India | BOOK NOW |
| 2 Jun to 28 Jun | $1850/$2000 | 5/10 | Rishikesh, India | BOOK NOW |
| 2 July to 28 July | $1850/$2000 | 3/10 | Rishikesh, India | BOOK NOW |
| 2 August to 28 August | $1850/$2000 | 2/10 | Rishikesh, India | BOOK NOW |
| 2 September to 28 September | $1850/$2000 | 6/10 | Rishikesh, India | BOOK NOW |
| 2 October to 28 October | $1850/$2000 | 2/10 | Rishikesh, India | BOOK NOW |
| 2 November to 28 November | $1850/$2000 | 4/10 | Rishikesh, India | BOOK NOW |
| 2 December to 28 December | $1850/$2000 | 1/10 | Rishikesh, India | BOOK NOW |
---
Our Yoga teacher training in Rishikesh fees includes these :
Fully residential 28 days Yoga Teacher Training in Rishikesh course with a single room or double room fully attached with a bath.
3 times veg. meals and 1 tea as per schedule
Course books and texts as per syllabus
Sunday is full day off
Yoga mats and cleansing materials
Sightseeing of Rishikesh city on Sunday
1 River rafting or Trekking tour in Himalayas
Most important is the course itself with the Yoga Alliance certificate and the sweet memories of the stay with us.. we shall also remember you always.
How to pay & book a seat
To confirm a seat for a course, please pay a booking amount of USD 200 and balance shall be paid on arrival day. We accept Paypal as of now. If you are unable to pay by Paypal, please use Western Union or direct bank transfer. A 5% processing fees shall be levied in any case. Once paid, please email us your details (rishikeshyttc@gmail.com) and fill the registration form.